Notice: Construction Updates
Pardon our mess! In April 2023, we began work on an expansion and renovation project of our Recreational Center. The first phase of construction displaces our shared parking lot. RVs, campers, and trailered vehicles are encouraged to park on the west side of the museum near the river. We have installed an access ramp for the entrance to the building from the west side. The individual motorist can park in our fleet parking area in front of the Vehicle Maintenance Shop on St. Joseph's Drive and enter the museum through the main entrance door. There will be additional parking around Wisdom Circle also located right off St. Joseph's Drive with access for entry through our main entrance door. Directional signs will direct you to areas of parking.
We intend to remain open throughout construction and are committed to keeping visitors informed about road closures and other impacts on visitation. Please stay tuned to this page when planning your visit over the course of the next three years. Thank you for your patience and support!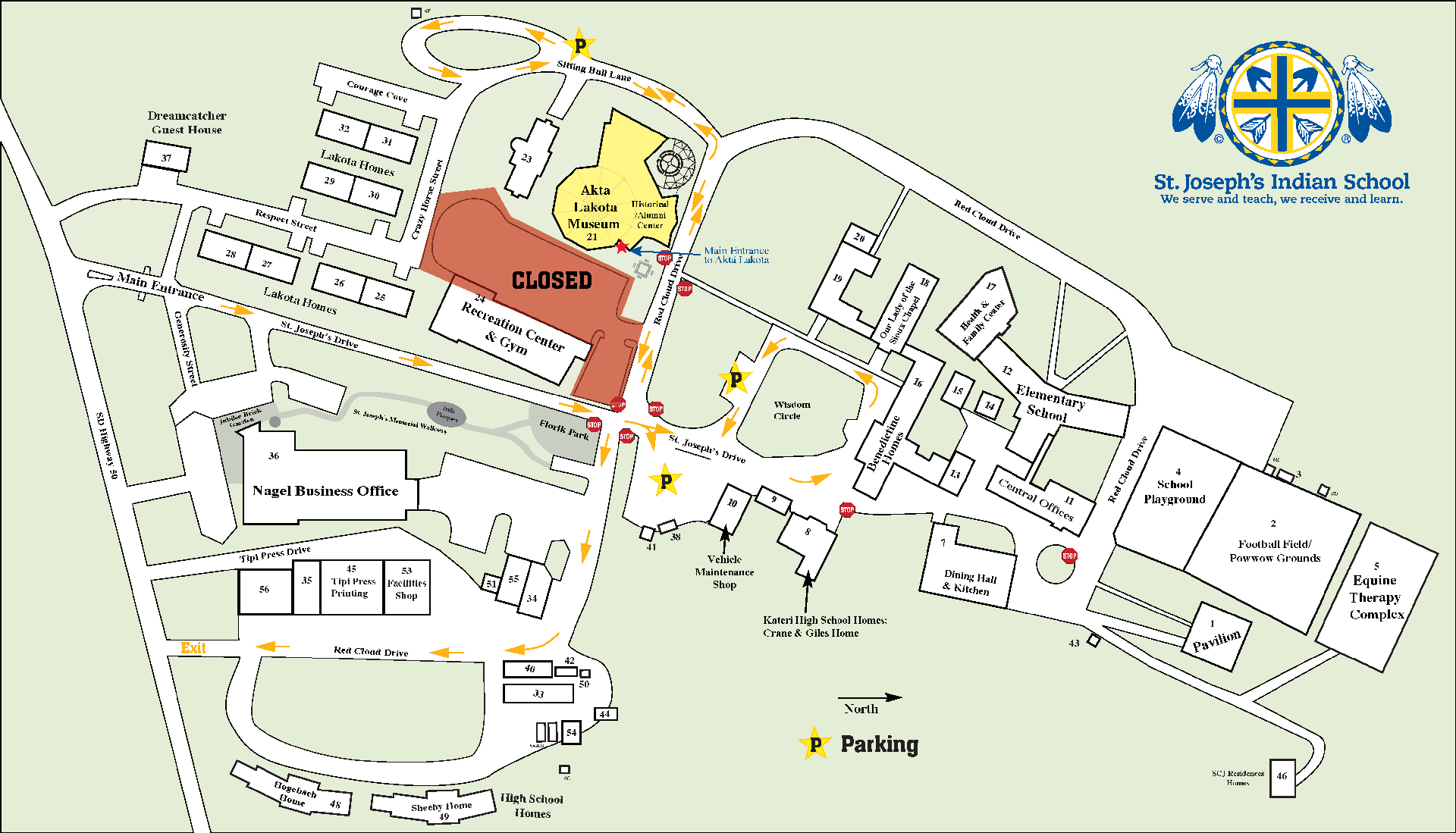 Location
The Aktá Lakota Museum is located in the heart of St. Joseph's Indian School in Chamberlain, South Dakota, along the banks of the beautiful Missouri River. The Museum tells the unique stories and history of the Northern Plains Indian people as no other museum can. We invite you to connect personally with the culture and traditions of the Lakota, Dakota, and Nakota people through our exhibits and programs.
Explore with us. Take a visual journey through the proud heritage of the Lakota people and into the excitement of contemporary American Indian art. Take a few hours or a full day. You'll be glad you did.
Hours & Admission
Admission to the Museum is FREE every day!
May – October
Monday – Saturday: 8:00 am – 6:00 pm
Sunday: 9:00 am – 5:00 pm
Open national holidays
Nov – April
Monday – Friday: 8:00 am – 4:30 pm
Closed weekends and national holidays
Please call 800.798.3452
Hours are subject to change.
Free Admission
Admission to the Aktá Lakota Museum & Cultural Center is free every day for everyone! We want every person to share in the rich Lakota heritage, regardless of ability to pay. We offer visitors the opportunity to donate to help support our programs; however, it is not expected.
Many visitors have asked about a suggested gift amount. Based on admission to other attractions in the area, we recommend $5.00 per single person and $15.00 per family. Group donations are at the group coordinator's discretion.
You can help preserve the Lakota heritage and contribute to St. Joseph's Indian School and its programs — like the Aktá Lakota Museum.
Schedule a Tour
Campus Tours
Guided campus tours are available upon request at the receptionist's desk. For more information, call 800.798.3452 or email us at aktalakota@stjo.org.
The Group Experience
Commercial Tour buses and groups from around the country have made our museum and St. Joseph's Indian School the place to see in Central South Dakota. We welcome all types of group tours: commercial, school, and private organizations. Advance notice is preferred but not required.
Request information by email or call 800.798.3452.
Facility features and amenities:
• Get the lay of the land by viewing our facility guide.
• Guided and self-guided museum tours
• Guided and self-guided tours of St. Joseph's Indian School Campus
• Museum Gift Shop & Collector's Gallery
• Bus Parking
• Wheelchairs
• ADA Accessible Restrooms
• Outdoor Medicine Wheel Garden
• Historical & Alumni Center
• Free Learning Material
• Resources for Teachers and Students
Photography
You are allowed to use cameras throughout the center, except in special exhibition galleries or where noted. Images captured are for personal use only. Commercial or media photography, flash, or continuous video lighting requires an appointment and permission from authorized center staff.
While visiting the Aktá Lakota Museum, you may be photographed or videoed by a staff photographer. These images may be used in future educational or public relations materials. Your admission to the center or to organization-sponsored programs serves as permission for image use.
Visitor Guidelines
For the sake of all visitors and to protect our collections and children, please follow these guidelines:
Do not touch artifacts and exhibits, except where invited by the "Please Touch" icon.
Leave food and beverages in your vehicle.
Refrain from using cell phones in galleries.
Refrain from smoking or using other tobacco products inside or outdoors we are a smoke free campus.
Leave backpacks, child-carrying backpacks, motorcycle helmets, umbrellas, and large items in your vehicle.
Leave weapons and tools in your vehicle.
Leave pets outside; qualified service dogs are welcome.
Wear appropriate attire, including shirt and shoes.
Thank you for your cooperation.
Restrooms
Restrooms are wheelchair accessible and located near the entrance of the Medicine Wheel Garden on the Westside of the center.
Directions & Parking
Parking map
From Interstate 90:
Take exit 263. Proceed north two miles – passing through downtown Chamberlain. St. Joseph's Indian School's entrance is on the road's left (north) side.
Turn into campus and continue north to the four-way stop. Turn left onto Red Cloud Drive. The Aktá Lakota Museum will be located to your left. Please turn in and park at your convenience.
Historical & Alumni Center
Tokéya uŋkí nájiŋpi — We Stood Here in the Beginning — Historical & Alumni Center preserves memories. It bears witness to the diversity, challenges, and accomplishments of the religious, students, staff, and benefactors of St. Joseph's Indian School since its founding in 1927.
Construction began on the Tokéya uŋkí nájiŋpi Historical/Alumni Center in October 2011. We dedicated the facility in May 2013. The Historical Center preserves the memories of St. Joseph's Indian School and shares the accomplishments of the students, religious staff, and benefactors. The center houses historic and contemporary artifacts from St. Joseph's past and present and serves as a place where past students can share their stories and stay involved with programs.
With the addition of the Historical & Alumni Center, we also gained the Aktá Lakota Museum Storage Facility. This facility provides climate-controlled storage facilities for the permanent collection of the school's fine art and historical artifact collection.
Medicine Wheel Garden
Our Medicine Wheel Garden is just to the west of the museum along the river. The space provides students, alumni and visitors a peaceful and inspirational respite from their daily routines.
The Medicine Wheel is a sacred symbol to the Plains tribes. It represents all the knowledge of the universe, with each color and line signifying an essential element in the circle of life. The garden pays tribute to the healing power of water through its Mni Wiconi — Water is Life — water feature. For the Lakota, Dakota, and Nakota people, water has always been sacred.
Visitors may sit in quiet meditation among the native plants listening to the sound of the water feature, or stroll around the perimeter and enjoy the Lakota directional prayers displayed on interpretive panels resembling sacred buffalo hides.