The Aktá Lakota Museum & Cultural Center opened in 1991 on the campus of St. Joseph's Indian School. We chose the name "Aktá Lakota," meaning "to honor the people," because the museum honors and preserves the rich culture of the Lakota people, the students at St. Joseph's Indian School, and the thousands who visit the museum each year.
Who We Are
The facility is more than a traditional museum; it is an experience that provides visitors with a living lesson on the American Indian way of life, both past and present. Our museum is a tribute to the Sioux nation and offers visitors a rare and fascinating glimpse into the Lakota culture.
Visitors take a visual journey through the proud heritage of the Sioux and into the excitement of contemporary Sioux art. The museum tour reflects the four cardinal colors and directions: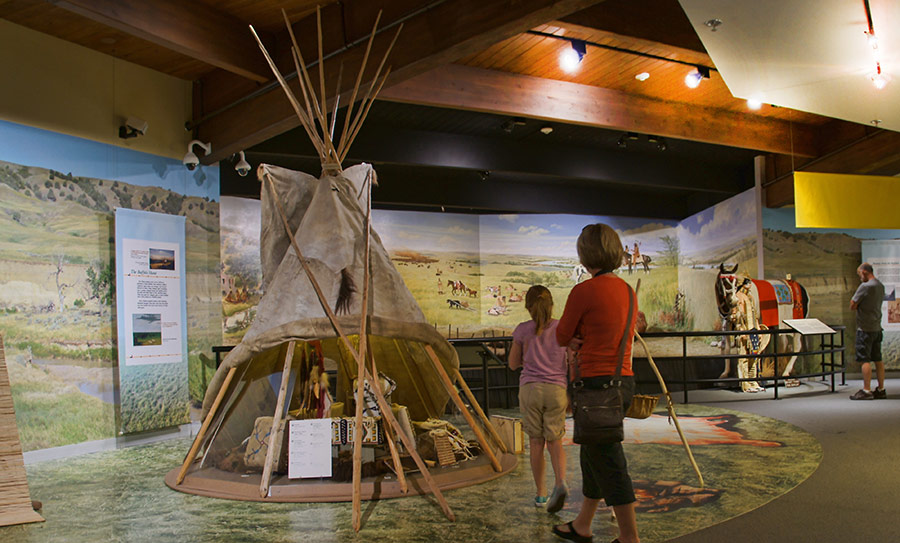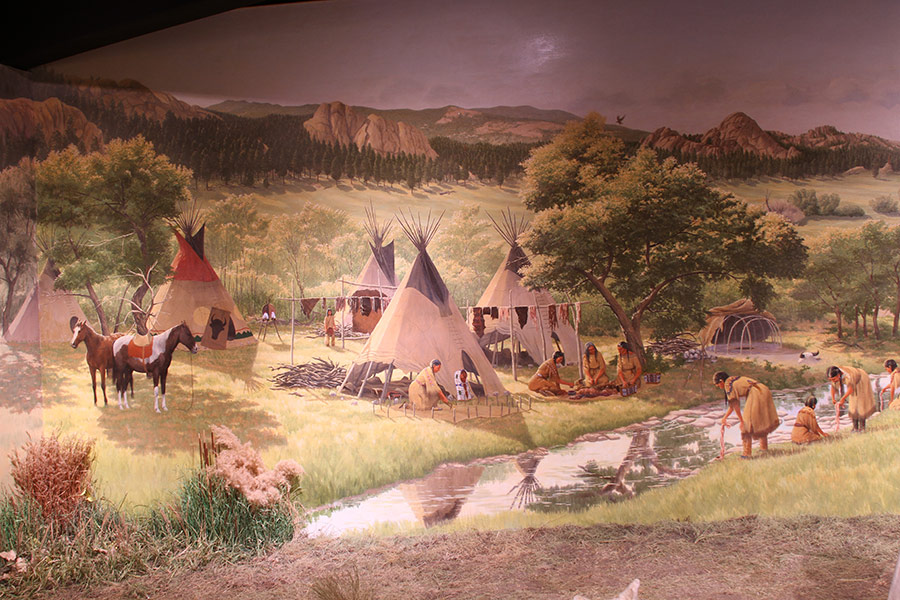 East — "Camp Circle"
Depicts life on the plains before the Euro-American contact; exhibits explain historical relationships of tribes and bands, featuring traditional cultural items.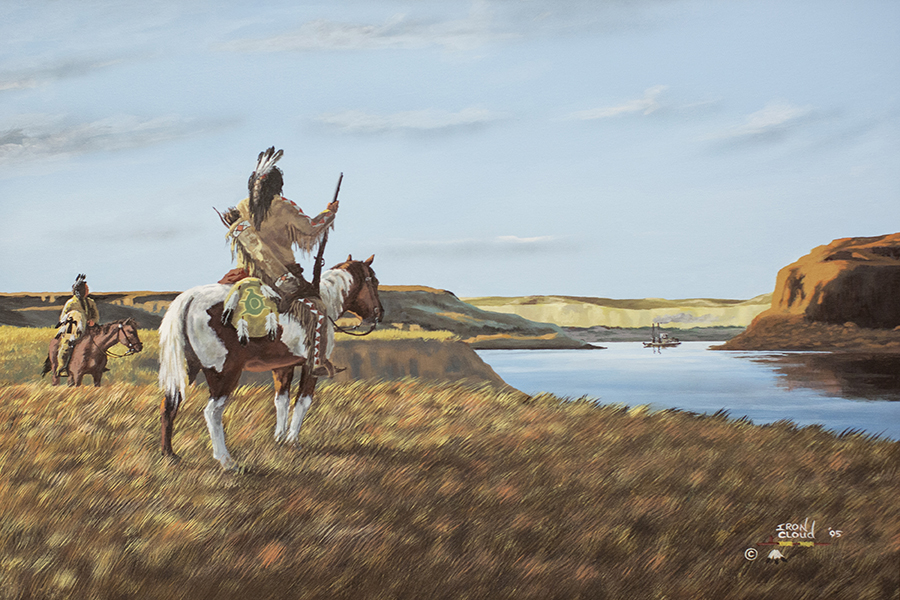 South — "Two Worlds Meet"
Details the arrival of Euro-American explorers, missionaries, traders and settlers in the early 1800s.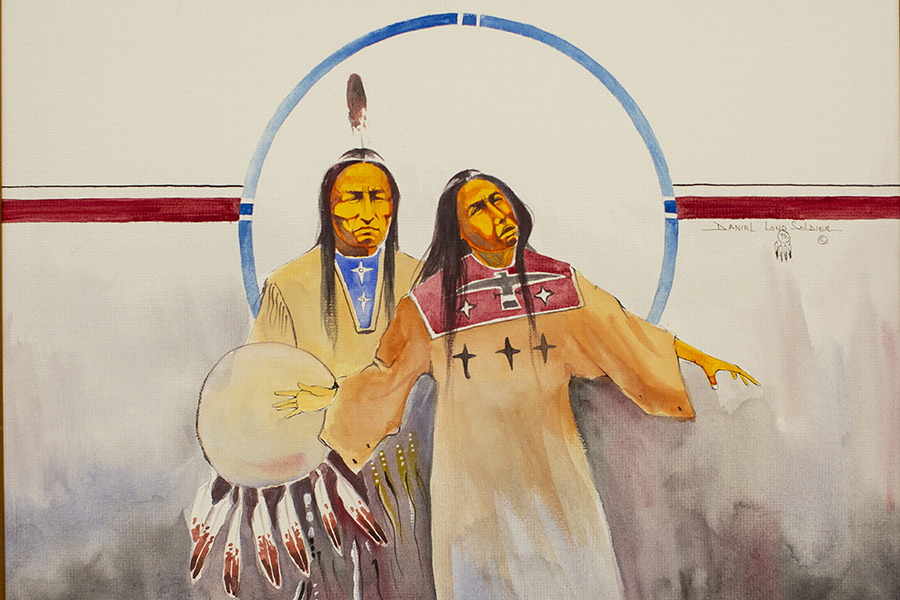 West — "Broken Promises"
Outlines the U.S. government's involvement with the Sioux, the loss of traditional lands and treaties, and maps out current reservation lands.
North — "Continuity and Change"
Illustrates how American Indians adapted to their new way of life and successfully preserved their traditions and heritage.
Our Mission
The Aktá Lakota Museum & Cultural Center, an educational outreach of St. Joseph's Indian School, is committed to promoting the knowledge and understanding of the Northern Plains Indian Culture past, present, and future by preserving historical artifacts and contemporary works of art.
The Aktá Lakota Museum & Cultural Center is an educational outreach program of St. Joseph's Indian School. The museum strives to preserve and promote the Lakota (Sioux) culture.
Our History
The Aktá Lakota Museum & Cultural Center is an octagon-shaped facility with 14,000 square feet of display space in the former school building. The museum's collection features art, artifacts, and educational displays that depict the proud heritage of the Lakota people. Much of the museum's original collection came from gifts given to St. Joseph's by alumni and friends since the school opened in 1927.
Br. Mathias Schaffer, SCJ, began working at St. Joseph's Indian School in the 1930s. He had a great interest in the culture of the Lakota, Dakota, and Nakota people. An immigrant from Germany, he was a skilled leatherworker. He recognized the talents of Native Americans and learned their ways, particularly doing beadwork on animal hides.
While working at St. Joseph's, he started a small museum featuring American Indian outfits, local wild animals, and a large diorama of an American Indian encampment along the Missouri River. Students enjoyed visiting the museum. As time went by, the museum added more American Indian items to the collection, including historic pieces of clothing, artwork by American Indians, and more.
The collection moved to various places on campus until we determined in 1991 that the former classroom building would be suitable for the heritage and culture center. The round layout lends itself to its current use as the circle is sacred for the Lakota and Dakota people.
The collection grew over the years, especially in the number of contemporary American Indian art pieces. Fr. Thomas Westhoven, SCJ, Director of Development (1979-1990) procured many of the articles in today's collection. Former students of St. Joseph's Indian school did many of these works of art. We hired the services of a professional museum consultant who organized the displays around the theme of family.
Historic items used by family members, such as beaded dresses and vests, are on display. There is a large diorama of a Lakota and Dakota settlement along the Missouri River. You can find a full-sized buffalo and horse. The past moves into today and the future through the artwork on display with these items from the past. Altogether, you get a glimpse into the rich and varied culture of the American Indian people of the Plains area.
Since the museum opened, it has acquired many new pieces and continually adds relevant articles. The museum also houses a Gift Shop that supports the sale of American Indian-made products on-site and online.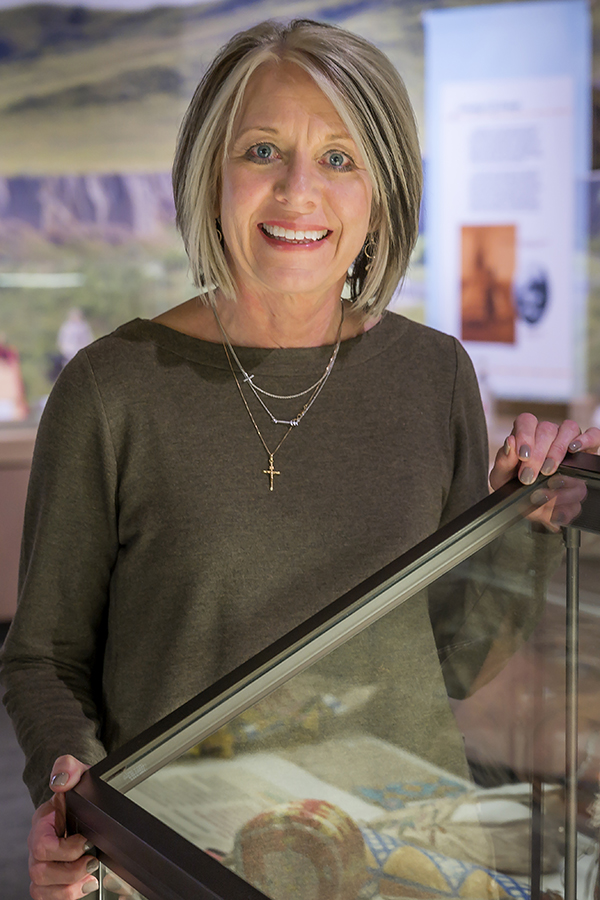 Dixie Thompson
Museum Director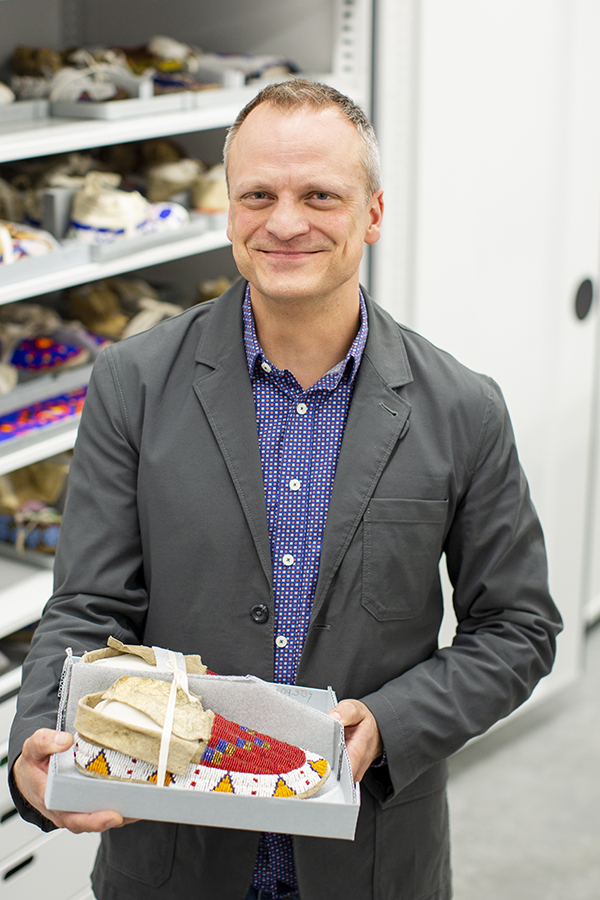 Dave Meyer
Assistant Curator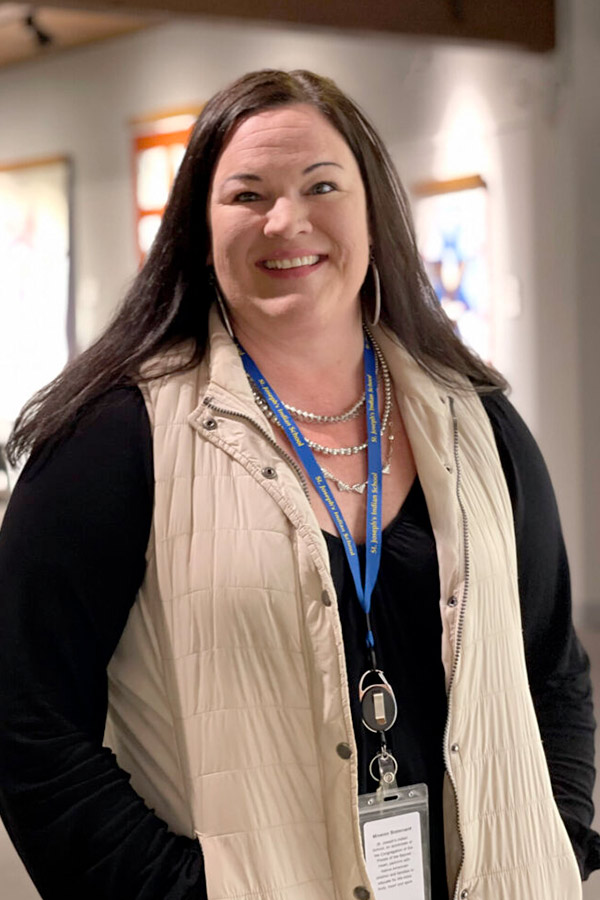 Linnea Wright
Museum Store Manager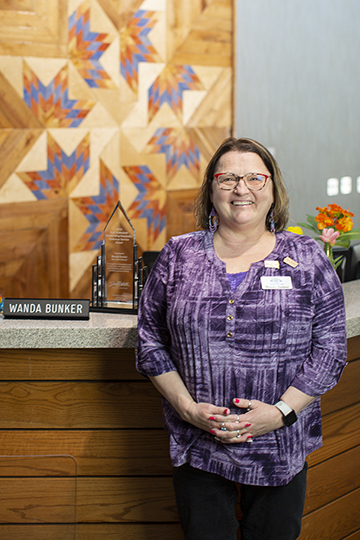 Wanda Bunker
Historical Center Coordinator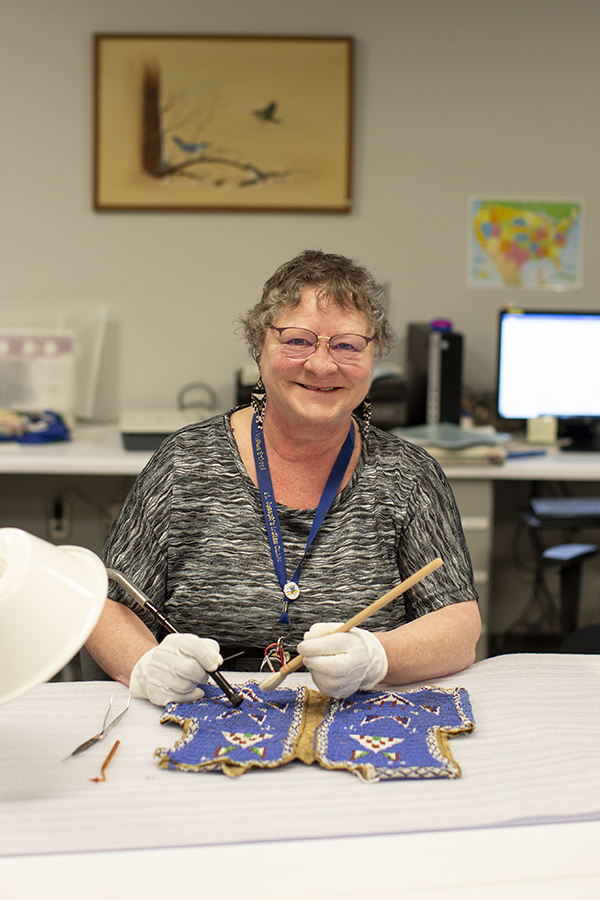 Beth Hess
Museum Technician
FAQs
Find quick answers to the questions you have about the AktáLakota Museum & Cultural Center.
What does Aktá Lakota mean?
Aktá Lakota means to honor the people in Lakota. The Aktá Lakota Museum & Cultural Center not only honors Native American people and culture but also is an educational center. The museum is a continuing monument to the Lakota people and their culture.
Where is the Aktá Lakota Museum located?
The Aktá Lakota Museum graces the campus of St. Joseph's Indian School in Chamberlain, South Dakota. To reach the museum, take exit 263 off Interstate 90. Proceed two miles north, passing through downtown Chamberlain. Turn left into the St. Joseph's Indian School entrance. Once on campus, continue north to the four-way stop sign. Then, turn left. You will take another left into the parking lot. The museum is on your right.
Directional banners and signs will aid in your journey, and you're welcome to call us at 800.798.3452 for more information.
View our campus map!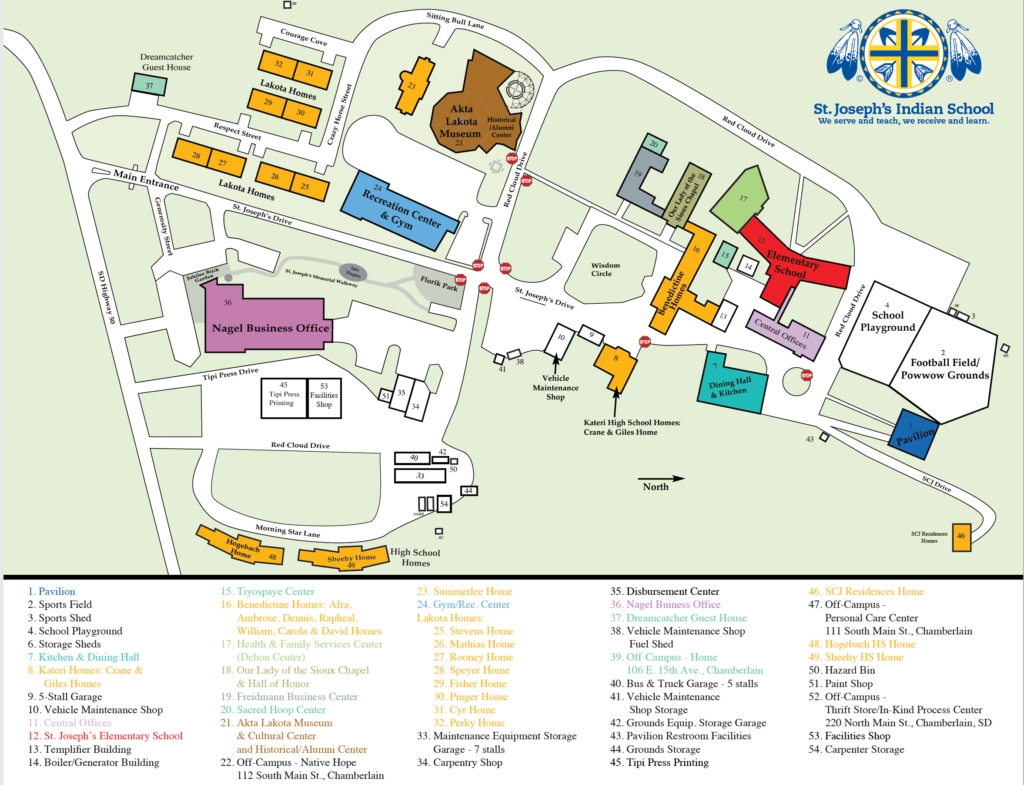 Which reservation is the Aktá Lakota Museum on?
St. Joseph's Indian School and the Aktá Lakota Museum are not located on a reservation. However, we are about 20 miles south of the Crow Creek Reservation and 30 miles southeast of the Lower Brule Reservation. At this time, just under 50% of St. Joseph's students come from these two neighboring areas.
How is the Aktá Lakota Museum supported?
The Aktá Lakota Museum is an educational outreach of St. Joseph's Indian School. As a component of the school, we are a nonprofit organization supported by private donations. No federal, tribal or tax funds are used to support the museum or St. Joseph's. We are able to help preserve the Lakota heritage and care for the children only through gifts from generous benefactors and friends. To contribute to St. Joseph's Indian School and its programs – like the Aktá Lakota Museum – donate today.
When was the Aktá Lakota Museum started?
St. Joseph's opened the museum in 1991. Learn more about the Aktá Lakota Museum history.
How do St. Joseph's students react to learning their culture through the museum?
For some students, the museum is their first introduction to the traditional culture system. Many of our students and visitors have never been to a museum where they have the opportunity to view such a vast quantity of Lakota cultural material. The students can often relate to different regalia or clothing displayed because some of their grandparents have similar pieces at home.
Can you explain what a Living Museum is?
According to the Smithsonian description, a living museum is "a place where contemporary issues receive as much attention as past battles. Where today's art is exhibited alongside yesterday's artifacts; where the education of young Indian students is as important as the state-of-the art research and conservation." The  Aktá Lakota Museum is proud to be considered a living museum!
Are you affiliated with any other American Indian museums?
We maintain affiliation with the Museum of the American Indian and the American Association of Museums.
Are you involved with other schools in South Dakota?
The museum was built with education in mind. We provide services for St. Joseph's students and other schools in South Dakota wanting to enrich and educate their students on South Dakota's Indian heritage. We want to have all students – Indian and non-Indian – benefit from our many services and resources.
Currently, there are South Dakota schools incorporating American Indian culture into their classrooms. We hope many of the schools visiting the museum utilize us as an educational tool for their students. We strive to help individuals learn about American Indian culture and incorporate this learning experience into their social studies, American Indian studies and other classes.
What is the admission fee?
There is no admission fee.
We want every person to share in the rich Lakota heritage, regardless of ability to pay. We offer visitors the opportunity to make a donation to our cause; however, we don't expect so. Many visitors have asked about our suggested gift amount. Based on admission to other attractions in the area, we suggest $5 per single person and $20 per family. Group donations are at the group coordinator's discretion.
How does the museum promote Northern Plains Indian art?
We're proud to promote local artisans and their work in several ways. First, we buy a variety of quality work from local American Indian artists. We purchase these pieces to display and sell to the public. Through our efforts, Northern Plains art gains worldwide recognition. We further promote Northern Plains artists by sponsoring exhibits that advance the knowledge and understanding of American Indian history and matters important to American Indians. When we buy their work regularly buying, they receive income and stability. The museum has grown into a unique showplace for South Dakota American Indian art and artifacts. We set the standard for other attractions by showcasing the largest collection of Northern Plains Indian art in South Dakota.
What are some of the changes happening with Northern Plains art and artists?
Interest in American Indian art has peaked in the last two decades. Many artists are naturally talented with no formal training. Yet, they produce exceptional works of art. Artists are excited to see their work in our gallery. It encourages them to excel.
American Indian artists are known for excellent historical scenes, portraits, pastoral scenes, wildlife, and more. A new generation of bright and talented Indian artists is emerging. There has been a recent revival of pictograph art the old painting of hides. This revival has also brought about a trend to research Lakota history and bring back more traditional painting styles on rawhide, buffalo, and other mediums. Our collection has a wide range of art styles ranging from primitive to abstract.
Many artisans create pottery, jewelry, quilts, and other works of art for us. Some have attended the Institute of American Indian Arts in Santa Fe, NM, but incorporate their own ideas and Northern Plains style into their work. The Lakota artist adapts the Lakota idea and feeling into his or her art style. We are proud to showcase their talents.

Why is the majority of artwork, paintings and sculptures created by male artists?
John Day, Dean of Fine Arts at the University of South Dakota (1980-2004), said, "Native American women tend to stay with traditional tribal arts such as doll making, quilt work, quillwork and beadwork; the male artists tend to be more into paintings and sculptures. However, this is rapidly changing as more women are going into the fine arts field."
Do you have any Indian-made products for sale? Who gets the profits?
The gift shop in our museum carries various types of Indian-made crafts as well as an outstanding selection of American Indian books and music. Most of these items are available in our online store, too. Shop now.
We are blessed with many local people skilled in the art of jewelry-making, beading, quilting, painting and crafting. We are proud to showcase their work in our gift shop. Many items are signed and/or have certificates of authenticity. We buy directly from the artists, and profits from our sales go to support the Lakota children at St. Joseph's.
Where do the artifacts come from? Are they real?
The artifacts in our displays are authentic, Many of them date back to the early 1800s. The majority of artifacts in our collection were found in the immediate area. Some of our artifacts are gifts from collectors or people looking for permanent homes for artifacts they have been storing for years.
Can I buy any of the paintings or artifacts on display?
The items on display are part of our permanent collection and are not for sale. However, we offer a variety of items in our gift shop. Here, you can buy original paintings, sculptures and other museum-quality pieces created by local American Indian artists.
How does the Aktá Lakota Museum help the local American Indian population?
Besides serving an educational purpose, the museum purchases art from local (Sioux) artists. We also buy local handmade items such as beadwork, quilts and jewelry for the gift shop.
How can I help?
Besides monetary donations, we also accept donations of American Indian art and/or artifacts. You can also help by spreading the word about your experience at St. Joseph's Indian School and the Aktá Lakota Museum.
Where can I get a star quilt?
We have a limited supply of handmade star quilts crafted by local Lakota and Dakota women available for sale in our museum gift shop and online shopping center. View our
quilt section
 for pricing and availability!